Have you ever heard that neighbor's dog who just won't take a hint? You don't want to be that owner with the constantly barking pup. Finding the best bark collar for your dog not only prevents the annoyance, but it also helps you train them.
See also:
Most bark collar reviews from the past mention products that don't come with remotes, only use one setting, and so on. These days, you have so much more control over all of the factors with your dog's collar. If you're looking for a new way to keep your pup from waking you up in the middle of the night, check out the list below!
The Best Anti Bark Collar for Your Dog
Rechargeable Dog Shock Collar by DOG CARE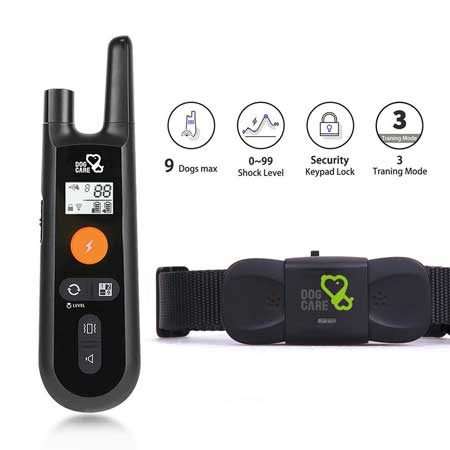 This dog bark collar might be one of the best options on the market for owners who have multiple dogs. A single transmitter can operate up to 9 different collars, meaning you can train each of them from one remote. No more fumbling around a bunch of remotes, which takes up too much space as it is!
The long range of the remote goes over 300 yards, which is well over the amount you'd need. It's a great way to train your dog to go on walks with you without a leash! The battery life is also pretty impressive, lasting for hours and hours without needing any recharging whatsoever.
In the past, one of the biggest concerns that we all had about bark collars is that they might be hurting the dog. However, this model comes with 99 different shocking levels, so you don't have to worry about that anymore. Smaller dogs need a much lower levels, while larger dogs likely wouldn't feel it if it weren't high enough. Adjust it as you see fit!
Pros
Works with up to 9 different collars from a single remote
Stays connected over 300 yards away
Adjust the shock level according to the size, weight, and age of your dog
---
POP VIEW Dog Anti Bark Collar
The Dog Anti Bark Collar by POP VIEW is another great option for dogs of all sizes. It can be tough to find the best bark collar for small dogs, but this one might take the cake. The adjustable straps on the side work just like a wrist watch, and you can change it in a matter of seconds.
With 7 different shock levels, you never have to worry about harming your dog. Each level isn't meant for pain at all, but they vibrate with higher intensities as you raise it. All this does is get your dog's attention quickly, rather than pointlessly hurting them.
The two 6-volt batteries required to operate the collar come included. They last for several weeks, months, and sometimes even longer. Why worry so much about the little details like battery life? This collar is great because you can use it when necessary and avoid it from dying on you.
Pros
Several vibrating levels, instead of a painful shock
Great for dogs from 11 pounds to over 100 pounds
Includes two long-lasting 6-volt batteries
---
TBI Pro Rechargeable Bark Collar
The TBI Rechargeable Bark Collar has to be one of the most advanced bark collars in the world. For starters, it's waterproof, which is obviously very essential for dogs who hang out around swimming pools and sprinklers. We all know how bad it can be if you have electrical products near water. The collar would pretty much break in seconds, which isn't the case with this one.
Another huge feature that makes it so advanced is the fact that it charges through a USB port. That's right, you can plug it into your laptop, gaming console, USB hub, and so on. Easy, convenient charging without any need to go up to the store and buy loads of extra batteries. Seems like quite the collar!
The three modes on this model use a loud beep to get their attention, a small vibrate, and a stronger vibrate to keep them alert. These collars are meant to help you train your pup, while preventing any unwanted barking along the way. There's also a way to turn on and off the shock mode, which provides an even stronger boost.
Pros
Charges via a quick-access USB cable
Three different modes to train your dog with, including beep, vibrate, and light shock
Ready to go with a waterproof protective layer
---
The StopWoofer Humane Bark collar
Much like the previous collar on the list, the StopWoofer Humane Bark Collar charges with a USB cable. This gives you the ability to charge it whenever it's not in use. Many pet owners opt to only use it when they're training or taking the dog out in public. In between those times, you can ensure it's all charged up and ready to go.
With an LED display to show the charging and shocking level, you'll always stay on top of things. Don't worry about accidentally unplugging it when it's not fully charged. You wouldn't want it to stop working halfway through the training session! Also, having the aforementioned LED light for the shocking level is crucial, because your dog shouldn't be shocked randomly without a fair warning.
These collars are meant to work for dogs from 15 to 110 pounds, which basically covers almost any and all breeds. The adjustable strap comes with a buckle so you can put it on or take it off with ease in a matter of seconds. It stretches from 5 to 19 inches based on the size of your pup's neck.
Pros
Uses a USB cable to quickly charge the collar in an hour or less
Works for almost any and all dog breeds
An LED display shows the battery charging along with the shock level
---
The Dog Training Collar by MiToo
The MiToo Dog Training Collar is meant for the rough, playful pup that doesn't take any breaks. It's waterproof throughout, which means they can run through all the mud and water they'd like to! You'll also notice that the collar strap is incredibly durable, withstanding almost anything that could come in your dog's way.
With three different modes at your disposal, you can take control and prevent barking altogether. These modes include an audible beep, a medium vibrate, and a light shock. You can also disable to shock completely if you're worried about accidentally hitting it. There's a sensitivity meter to lower the intensity of all three settings as well.
The automatic smart settings on this dog bark collar slowly ramp up the vibrations or shocks when it's set correctly. You can hook it up and forget about it, while the barking is all under control. If the dog barks for too long, the collar shuts off for 30 seconds as a safety measure to prevent any harm from happening.
Pros
Waterproof and resistant to rough play
Uses three different modes to control your dog's barking
The automatic smart mode takes over the job, so you don't have to
---
Petrainer PET998DRB Rechargeable Dog Shock Collar with Remote
Not everyone wants to most futuristic dog collar on the planet, which is completely fine as well. For those of you who just want to get back to the basics, the Petrainer Rechargeable Dog Shock Collar with Remote is a perfect option. The remote and collar both charge with the same plug, with a port to hook them up at the same time. The collar mechanism detaches from the rest of the strap, so your pup doesn't have to take off their dog tags every time you charge it.
Much like some of the previous collars on the list, this one uses three modes. Beeping, vibrating, and shocking all put the power in your hands to keep your dog's bark under control. The company suggests that you only use the gentle shock in emergency situations, like if your dog gets aggressive or runs away from you. The remote works up to 330 yards, which is plenty enough distance.
With a strap size of 15 to 22 inches, this collar is perfect for medium and large sized dogs. You wouldn't want to use it on a puppy or a smaller breed, since they might be able to slip right out of it. However, medium and large dogs will stay secure and safe with the hardened, durable collar. Both the collar and the remote are waterproof for rainy days and sprinkler running during the summer.
Pros
Keeps things simple with a remote and collar that plug in together to charge
Uses three different modes; Shocking, vibrating, and beeping
Great for medium and large dog breeds
How to Choose Your Dog's Bark Collar
Now that you know the best of the best dog bark collars, you probably still have a few questions on your mind. Don't worry though, you're not alone. After all, this is a serious decision that'll help you keep down the barking and continue to improve your dog's training process. With that in mind, here are some of the most frequently asked questions about the best anti bark collars on the market.
What types of shocking does the collar do?
Picking the right kind of dog collar definitely means you have to check out the actual shocking mechanism itself. Many pet owners don't believe in shocking their dogs at all, and that's totally fine. Most of the collars on this list have multiple options, all of which let you turn off the shocking function altogether.
Other forms of 'shocking' or bark control include varying vibration levels and audible beeps. Smaller dogs are much more likely to react to a beep, since it's louder to them. Light vibrations generally work for all dogs, because it's a physical feeling that they associate with any given command. Some collars even let you adjust the intensity of the shocks, vibrations, and beeps that they emit.
How does the bark collar charge?
You'll want to investigate the charging methods before you select your favorite dog bark collar. The main two ways to charge these products up are USB cables and traditional wall plugs. Both of these methods charge up fairly quickly, with times reaching under an hour with certain companies. Either way, the process is quick, but you should always make sure that you select whichever is most convenient for your situation.
Do you need a waterproof, rugged bark collar?
We all know those dogs that simply can't get enough outdoor play. Whether it's running though the fields or playing fetch until they fall asleep, there's always that one pup that loves life! The good news is that there are quite a few collars on this list that are waterproof and damage-resistant. Buckle it up and let your dog have a blast, just as they would with any other dog collar. Keep in mind that bark collars are never meant to be a punishment. They're simply a better way to minimize excess barking and aid in the overall training process.
Should you get a remote with your anti bark dog collar?
This one is entirely up to you and your situation. If you're home a lot, then a remote is a nice option to keep the control in your hands. They're all pretty simply to get the hang of, so you don't need to worry about being confused by too many buttons. Many of them charge mega-quickly as well.
On the other hand, some of the bark collars that don't come with a remote use a smart system. This system basically keeps you out of the equation so you can focus on other things in life. It ramps up the vibrations, beeps, or shocks, while maintaining safety to ensure your dog will stay obedient without being harmed in any way.
As with the rest of the questions and answers, the choice is ultimately yours. It all depends on you and your situation!

Victoria Nelson is a lifelong animal lover. She grew up in a small farm with a wide variety of pets that included dogs, cats, cows, fish etc. A published author since 18, she loves writing, and nothing makes her happier than writing about animals and sharing useful animal care tips.