Halloween may seem like a long ways away, but a quick search through sites like Instagram and Facebook show lots of funny pictures and videos of Dachshund owners not waiting until Halloween to dress their Dachshunds up in funny costumes. In fact, Dachshund costumes are some of the most fun and interesting costumes for dogs on the market, and Doxies just look adorable in them.
See also:
From hot dog costumes for Dachshunds to shark costumes to a guitarist, there are plenty of options for dressing your Doxie up at any time of the year. Your dog can be in style for every occasion, holiday, or "just because."
The customary costume for any Dachshund, also known as "the hot dog dog," is a hot dog costume. Rubie's is one of the leading costume brands, and they've expanded their market to include our furry friends. This classic costume features two buns on each side, with ketchup and mustard on top of the hot dog. It's simple to fit on, and your dog will look adorable. This hot dog costume for Dachshunds comes with adjustable neck, back, and midsection straps for optimum comfort. Buyers report that the costume can run a bit large, so it's important to measure your dog and compare it with Rubie's sizing chart before ordering. This costume comes in all sizes, so your Dachshund and Black Lab can both go out together as hot dogs for Halloween or the Fourth of July.
---
If you want to be ready for Shark Week in July, then the Mogoko Shark Costume can have you and your Dachshund ready to fear the water together. This plush, velvet costume is soft and warm for your pet, and easy to put on and quickly remove. The shark head fits over your Doxie's head, with their face sticking out through the teeth. Put this costume on your Dachshund and set him loose on your guests for lots of laughs and head pats. Customers say that this costume runs a bit small, so make sure to use the Mogoko measuring guide to ensure that this costume will run the length of your Dachshund and fit underneath him as well.
---
If you and your Dachshund want to rock out on the guitar together, this is the costume for you. Not only does the guitar hang in the front with "arms" to hold it, but the costume comes with the perfect messy black-haired wig to complete the ensemble. The costume is made of polyester, and the wig comes with a chin strap to hold the hair in place as your dog walks around. Whether your dog is standing or sitting, from the front, it will look like he or she is holding a guitar and ready to play for you and your friends. The sizing is accurate, but double-check by measuring your dog first just in case. They do suggest ordering a larger size if your dog is in-between sizes.
---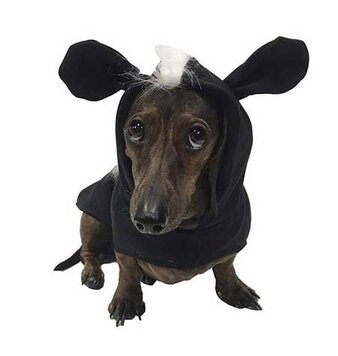 Midlee is one of the premier dog apparel and accessories brands, and their costumes are top-notch. A fair warning for your Dachshund with this costume: don't put this costume on and send them outside without supervision because they may actually look like a real skunk to others. This skunk costume is a lighthearted take on everyone's favorite stinky animal. It's easy to take on and off with simple Velcro closures for a quick costume change. Midlee provides an easy-to-read sizing chart, and their costume sizes are accurate. Measure your Doxie before ordering to ensure accuracy.
---
If your Dachshund is ready to tap into their wild side with a trip back to the Old West, this costume is an excellent choice to unleash their inner cowboy. This polyester costume is easy to put on and adjustable. The secure straps keep the cowboy in place, even with a hard shake from your Doxie. The cowboy rides on your dog's back with reins in one hand, and his hat in the other. The hat can also be placed on the cowboy's head. The fun, laughs, and pictures you will get from this costume will be worth every moment your dog spends in this adorable ensemble. This costume comes in small, medium, and large, so it's important to follow NACOCO's measurements before ordering.
---
If your Doxie wants to feel like the King of the Jungle for a day, then the LCFUN Lion Mane costume is a great headpiece to easily slip on and give your dog a boost of confidence. The headpiece is adjustable with Velcro straps to make the perfect fit for your dog's head's circumference. This soft mane with fake lion ears is easy to clean, and comfortable for your dog to wear for long walks around the neighborhood. This particular lion mane only comes in small, so it's perfect for your Dachshund's dainty head and face. Customers who have bought this costume have been overwhelming happy with the quality of the lion mane, along with all of the attention it draws to their dogs who are always happy for extra love and treats.
---
If your Dachshund is your superhero, then this costume will take their powers to the next level. Complete with a red cape, yellow belt, and chest piece, all with the Superman logo. The cape ties around the waist and neck to help keep it from sliding around as your dog moves. You must check the sizing chart and watch Rubie's sizing video before ordering: the measurements on this particular costume are very particular. The adjustable straps will fit wide-chested, yet short dogs easily, which is one of the challenges some pet owners run into when it comes to finding costumes for their dogs. For Doxies, a small or medium size should fit perfectly, and you can coordinate with your dog by donning your own DC Comics superhero costume. What could be better for trick-or-treating than a dog and human superhero duo protecting the neighborhood this Halloween?
---
If your Dachshund routinely finds themselves in "puppy prison," then this costume will make be an easy and cute transition. This costume comes complete with a prisoner hat with a chin strap to keep it in place on your little prisoner's head. The material is easy to clean, and the costume is quickly put on or taken off with Velcro straps. Use the Midlee sizing chart to ensure that this costume will fit your Doxie perfectly before you choose a size. Customers rave about the adorable look their dogs give them when they don this prisoner's uniform, and the comfortable fit of the sizing. Couple this with a police officer costume, and you can have your own game of "Cops and Robbers."
---
If your Dachshund never breaks the law, then perhaps a police costume would be better suited for them. This polyester costume comes with a hat and police belt with accessories, including a walkie-talkie and handcuffs for when your dog is ready to arrest his prisoner. The hat fits well with ear slots and an elastic strap to keep it in place. The belt is adjustable, but the material for the shirt is very snug. Make sure to properly measure your dog using Rubie's size chart, and go a size up if you're not sure. The material does not have a lot of "give," so it is important to make sure it's not too tight on your Doxie.
---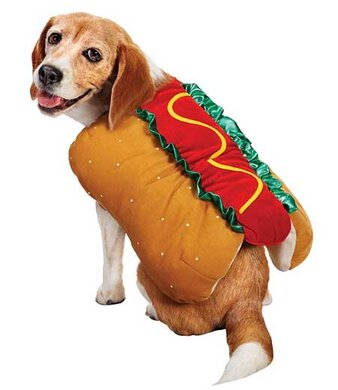 Life isn't complete for a Dachshund if they don't have multiple hot dog costumes to choose from. If you're ready to switch up your Doxie's hot dog wardrobe so he can have a new hot dog costume for Dachshunds every week, check out Halloween Bootique's hot dog costume. This hot dog features shiny, silky lettuce poking out from both sides of the bun, in addition to the ketchup and mustard on the actual dog itself. Adjustable neck and belly straps keep this costume in place while your dog makes the neighborhood rounds. If you're looking for a unique and cute way to spice up your backyard BBQ this summer, have your Doxie be the hot dog mascot in this hot dog costume for Dachshunds.
---
If you're in the food mood when it comes to finding the perfect costume for your Dachshund, Rubie's sushi costume is a hilarious choice for any party or occasion. This costume features nigiri salmon sushi, and it comes with a Japanese-inspired headband. The headband comes with chin straps to stay in place. The salmon and "rice" are attached by a belly strap to help hold it in place while your dog walks around. Use Midlee's sizing chart before ordering to ensure the proper sizing for your Dachshund. After wearing this costume, your Doxie is sure to be the talk of the town, and the envy of all your sushi-loving friends.
---
Dr. Dachshund is in! This adorable doctor's costume by Midlee comes with human arms and a small medical bag which hang in front of your Dachshund as he walks around. The outfit features a white lab coat, blue scrubs, and a print stethoscope for quality patient care. The pockets on the back of your Doxie's lab coat have a prescription bottle and prescription pads so your dog can be sure to pass out prescriptions for more treats to all of their neighborhood friends. This costume is easy to strap on with Velcro around the neck to secure it. Use the Midlee sizing guide before you order. This costume is sure to bring a lot of fun and laughter to your Doxie's "rounds" around the neighborhood.
---
Not every dog hates the UPS man. Sometimes, the UPS man is bringing fun deliveries for your Doxie! Your Dachshund can dress up as his favorite delivery man with this adorable costume by California Costumes. This outfit comes complete with the UPS hat with ear slits to keep it secure on your pup's head. Your dog's front two legs will fit through the "pants" of the uniform, and "hands" will hold a genuine UPS cardboard box. Put this costume on your Dachshund and let him give deliveries of kisses and sniffs to all of your friends and family. He will be the most adorable delivery man your neighborhood has ever seen. Make sure to use the size chart and measure your pup before ordering to ensure an optimum fit.
---
If you're looking for another hot dog costume for Dachshunds, Midlee's costume is unique in that it features grill marks on your hot dog, along with lettuce poking out from the bun on both sides. This particular size fits Dachshunds who are 8″ long. This costume is easy to quickly put on, with two broad Velcro straps that secure beneath the belly to help hold it in place. Help your Dachshund stand out from the other dogs by giving him or her choices for their hotdog wardrobes every day.
---
If you have a lady Dachshund, don't let her miss out on dressing up as the fabulous Wonder Woman for her night out trick-or-treating. This costume comes complete with the Wonder Woman dress and sparkly skirt, and her trademark gold headband. Customers love this costume on their Dachshunds, and find the headpiece easy to keep on with the added elastic band. Make sure to use Rubie's sizing guide before you order this costume to make sure that it fits perfectly on your pup when it arrives.
Final thoughts
If you're looking for the best hot dog costumes for Dachshunds, there are plenty of options available, but don't stop there. Check out some of the other great costumes that will bring years of enjoyment at every party and holiday occasion for you and your Dachshund. Your neighbors will be trying to guess what your Doxie will be dressed in next!

Victoria Nelson is a lifelong animal lover. She grew up in a small farm with a wide variety of pets that included dogs, cats, cows, fish etc. A published author since 18, she loves writing, and nothing makes her happier than writing about animals and sharing useful animal care tips.