Because you love both your German Shepard Dog and you love your ability to sleep comfortably, you need to find a great bed for your dog. Otherwise, he wants to sleep in yours and you don't get comfortable sleep that way. So, what is the best dog bed for a German Shepard Dog?
The German Shepard Dog is a fairly large breed and needs a large comfortable bed. He needs a bed that will not break down easily, that will provide cushion and comfort for his joints and resistant to his chewing. The German Shepherd dog is on average about forty-five to 90 pounds, depending upon gender and breeding.
See also:
So, what should you look for in the best beds for the German Shepard Dogs? The important factors are comfort, size, durability, design, chew resistance and price. If you are going to use it at all outside then you will need to consider a waterproof, indoor/outdoor bed.
The German Shepard is a medium to large dog. With all dogs this size you have to worry about their joints, about arthritis and dysplasia in the hip and/or elbow. So as important as comfort is for this working breed, it is even more important that they have the cushioning and orthopedic support that they need in their bedding. They also need a bed that is big enough for them to stretch out.
Yes, they will curl up, but like any dog, there will be times when they want to stretch, and their bed should be able to accommodate that. Which is why it might take awhile to find the right bed. We hope these tips will get you started and point you toward the best bed for your German Shepherd.
Best Dog Beds for German Shepherds:
This is one of the best dog bed for German Shepherd. This dog bed is really made for the larger dog. In fact, depending on the size of your German Shepherd, this orthopedic bed comes in medium, large, extra large and giant 2XL. This bed is actually calibrated for the larger dogs and is not good for small ones. Yes, it is expensive, but it will take care of your dog's joints, provide superior comfort and last a long time.
The bed meets the needs of a large dog like the German Shepherd, as it is made of durable, therapeutic memory foam. It will conform to your dog's body without breaking down or flattening out. It is designed to distribute your dog's weight across the entire bed in order to meet the criteria for comfort, support, and durability.
You won't find another dog bed of this quality that also offers a ten-year warranty on maintaining 90% or more of the original shape and support. It is made in the United States and has a microfiber cover that is soft, attractive and machine washable. The orthopedic memory foam is seven inches thick and is furniture quality. Your large dog will not only be comfortable on this bed, but they can't sink into it so much that they feel the floor instead of the bed. This foam is so good, it has been accredited by an independent lab.
Yes, it is expensive. But many of the lesser cost beds are not made in the United States but rather in China with cheaper foam, or fillers that can include toxins that can be harmful to your dog. Those beds surely won't last ten years, and they don't carry a ten-year guarantee like the Big Barker does. With no pressure points, your dog will have ultimate comfort with this bed.
The extra large size is 52" X36" X 7" and is designed for the German Shepherd Dog, the Mastiff, the Doberman, and the Rottweiler. This design includes a comfortable headrest made of the same high-quality memory foam as the rest of the bed.
---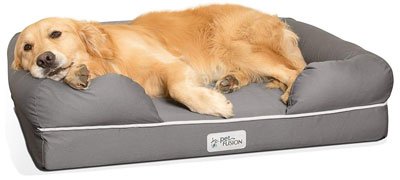 This bed is 36 X 28 X9 and designed for both large and medium-sized dogs like the German Shepherd. A 100-pound dog will have no problems with this bed. It is made of a breathable, high-quality cotton blend and four inches of memory foam. The bed has bolsters around the sides that are filled with recycled materials and provide extra support for your dog's joints and back.
This bed has a waterproof liner and is designed to improve the comfort and reduce joint aches and stiffness of your dog. The cover won't give in to any dog's desire to chew it or rip it apart and the bed has a non-skid bottom so that isn't going to slip on the floor. It's easy to clean as the cover comes off and the whole thing is machine washable.
PetFusion Large Dog Bed is certified to be toxin free by the REACH standards of Europe. The cover is also certified. This dog bed carries a 24 month or two-year warranty while the Barker's warranty is for ten years.
---
This is the same bed as the previous one (Big Barker 7″) with the exception that it does not have the rounded headrest of the first version. But when it comes to comfort, durability, and support, it offers the very same quality as the model with the headrest. It also offers the same ten-year guarantee. You can't go wrong with either one. It simply depends on whether or not your dog likes to sleep with its head elevated.
---
Yes, this dog bed is made by Sealy. The same people who make the human bed mattress that we are all so familiar with. It uses a quad foam layer and provides good orthopedic support. If your German Shepherd has arthritis or any bone and joint issues, any dysplasia this is a good bed for the price. It will provide your aging dog with the support and comfort it needs.
This bed has a cover that can be removed and is machine washable. The charcoal base is unique and adds to the freshness of the bed by absorbing odors. In addition, that quad foam layer technology lends durability to an outstanding bed design and Sealy craftsmanship.
---
The price drops substantially from our first choice to our fifth. This bed is a little smaller at 27 W X 35 L, but it is still plenty big enough for your German Shepherd. You can also buy it in an extra-large size if desired. Like so many of our own beds – and our dogs love to sleep in our beds – is designed with a base of foam and a pillow top to provide support. The foam is medical grade and with the pillow top, it cushions your dog's joints, muscles and it prevents pressure points.
With its combination of golden corduroy, yellow fabric, and brown suede, it is a good looking piece of furniture that can go anywhere in your home. It has a waterproof liner and a removable, machine washable cover. You may have to fluff the pillowtop after taking it out of the package if it is pushed down and lumpy, but you won't be disappointed by its plushness.
---
This large bed plus pillow is hypoallergenic and waterproof at 40 X 25 X 6 with the pillow being 4" in itself. The outer fabric is oxford, soft and durable covering a base of four inches of premium stability foam with another two inches of orthopedic memory foam. This combination should afford your dog with the comfort and cushion his joints and muscles need. Whether he suffers from arthritis, dysplasia, or just muscular aches, this combination will afford him the maximum in canine comfort. In fact, this bed has been tested by experts from the hospitality and hotel industry and has been found to provide the same level of comfort to your dog as a 5-star hotel bed provides to you.
It has a waterproof inner lining and a removable cover that can be thrown in the washer to keep the bed and your house smelling fresh. No matter if your dog is a puppy or a senior citizen, this large bed will offer him the best sleeping experience and support. It is large enough to stretch out in and cozy enough to curl up in.
---
This is the least expensive bed in our list, but please don't think that means it's not on par with some of the more expensive items. FurHaven has done a very good job with designing and developing a top-flight dog bed while keeping the cost in line for anyone to be able to afford. The bed is 44 X 35 X 10.5 in its largest jumbo size but if your GSD does not need that much space the large is 36 X 27 X 8.5.
This bed has velvet and faux fur cover with three side bolsters. There is headrest as well for dogs that prefer their head elevated when they sleep. There is enough room for him to curl up or stretch out. The velvet and fur are soft and gentle on your dog and encourage him to snuggle up.
The difference you will see between some of the other beds and this cost-effective unit is in the base. The orthopedic foam in this bed is designed into an egg crate with deep, comfortable, and pressure point free divots. In addition, the railings are made of recycled material and the design makes the bed perfect for arthritic and older dogs.
You can remove the cover and liner. Close the cover with the zipper and put it in your washer. You can then put it in the dryer as well. How easy is that? Of course, the bolsters and base are not washable.
One caution: this bed is durable, but it will not stand up to your dog's teeth so if you have a chewer, this is not the bed for you.
---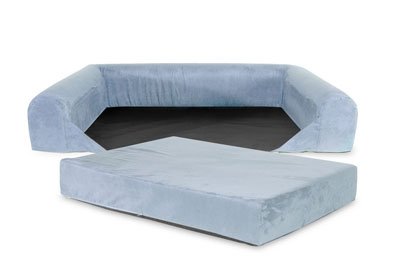 Finally, we return to a more expensive item, but one that is certainly worth the cost. This lounger is 40 X 56 X 8.5 of comfortable memory foam at its base. The cover is waterproof with a zippered edge over this hypoallergenic memory foam of the highest quality. Double the foam – double the comfort. The cover is suede and plush. The orthopedic foam is of the same quality as you will find in the best of the high-end mattresses for people.
Related:
Conclusion
So, there you have it – our choice for the 8 best dog beds for German Shepherds. Whether you can spend a lot or a little, whether you want the top of the line or high quality for a great price, you will find the right bed for your dog on our list. Happy shopping!

Victoria Nelson is a lifelong animal lover. She grew up in a small farm with a wide variety of pets that included dogs, cats, cows, fish etc. A published author since 18, she loves writing, and nothing makes her happier than writing about animals and sharing useful animal care tips.