Finding the best mouse water bottle for your new furry friend isn't always the easiest task. With hundreds of options to look through, how are you supposed to tell which one is right for the situation? Fortunately, this list features the best of the best at extremely budget-friendly prices, so you don't have to spend tons of money getting your mouse cage setup.
See also:
Once you've seen all of the selection here today, you can check out the tips and advice guide under it for further assistance if you need any. Owning a mouse is a fun, adorable, and exciting journey. Get them the right water bottle and you won't have to worry about various injuries or broken parts that might happen with a cheaper solution.
The Best Mouse Water Bottle
1. MidWest Home for Small Pets Water Bottle
Not all mouse water bottles are the same, especially when it comes to the versatility of the MidWest Home for Small Pets. There are a few ways to hook it up to allow your rodent to have much more room in their cage. It also works with glass or wired setups, which is why so many mouse owners are getting it.
The locking mechanism on this water bottle hooks up quickly to prevent it from falling. There's also an option with suction cups if you used a ventilated glass home for your mouse. Either way, the connection is incredibly strong, preventing it from falling or breaking apart over several uses throughout the years. Why get multiple water bottles if you can use just one?
Another great feature about this product is that you can choose from three different sizes depending on the size of your mouse and the cage he or she lives in. There's a small 3.38 ounce option, a medium 10.14 ounce option, and a large 20.28 option. Keep in mind that mice usually only need the small size since they don't drink too much water.
Pros
Comes with several connection methods to fit your mouse's setup
Includes multiple sizes so you get the perfect match
Stainless steel sipping spout to prevent rusting and clogging
---
2. Kordon/Oasis (Novalek) SOA80304 Bell Bottle
Next up on the list is the Kordon Oasis Bell Bottle. It comes in a stylish flower design in a semi-transparent blue-green color to brighten up your mouse's home. The best part is that it includes a green holding guard to keep it out of harm's way, while also protecting your mouse from breaking or damaging it when they're playing.
The spout is a traditional drip tube that only lets water out when your mouse is going in for a drink. It's ultra-sealed so you don't have to worry about it leaking or flooding the cage. The top of the bottle itself is rounded, which is usually a feature that not many people pay attention to. Since it's rounded, your mouse won't be able to choose or claw at it.
This bottle hangs right over the edge of a cage or aquarium, giving your mouse instant access to fresh drinking water whenever they want it. The bottle and the guard are both very durable, so you won't have to replace them all the time. There's only one size, 4 ounces, but it's definitely enough to work for any and all mice.
Pros
Comes with a long-lasting bottle guard and a rounded top to prevent chewing
Holds up to 4 ounces of water at one time
Hooks up to cages and aquariums alike
---
3. Kaytee Clear Water Bottle
You don't always need a product that has a bunch of sizes or special features that make it stand out. For those who just want a simple, straight forward the best mouse water bottle, the Kaytee Clear Water Bottle will do perfectly. Customers love it, and it's one of the most popular water contraptions for rodents on the market.
This water bottle is no joke though. It boasts a massive 32 ounces at a time, which means you don't have to constantly refill it every day. You'll also notice that the wide interior is much easier to clean than other options that make it difficult to get a rag or towel into. The spout is sealed with a drinking bead to prevent water from leaking as well.
A wire spring and two hooks are all you need to hook it up on the side of your mouse's cage, and both of those tools are included with your purchase. The bottle itself is see-through, which lets you know when it's almost time to clean and refill it. Even the plastic used to create it is BPA-free to prevent any contamination from getting into the water supply.
Pros
Comes in a massive 32-ounce bottle to extend refill times
Easy to clean, fill, and hook up in seconds
BPA-free plastic used throughout the bottle
---
4. Lixit Small Animal Wide Mouth BPA-Free Water Bottle
Another simplistic water bottle for your pet rodent is the Lixit Small Animal Wide Mouth BPA-Free Water Bottle. By the name, you can probably already assume that it's free of harsh BPA properties that have long been known to cause health issues. BPA plastics can lead to birth defects, cancer, and other problems, but you won't have any of those in this bottle.
One of the most notable features that you'll be able to choose from if you go with the Lixit bottle is the multiple colors and sizes. As far as sizes go, there's an 8-ounce bottle, a 16-ounce bottle, and a 32-ounce bottle. The colors are Skulls, Teal Polka Dots, Translucent, Camo, Sharks, and Pink Polka Dots to decorate the cage.
The tough materials used to craft this bottle are chew-proof, so you don't have to keep replacing your mouse's bottle every time they cause a leak. It's also climb-proof thanks to the naturally slipper nature of the plastic. You mouse won't want to do anything but drink from it, which keeps them hydrated and saves you money!
Pros
Comes in several adorable designs and useful sizes
BPA-free plastic to prevent harmful health problems
Simple, proven craftsmanship that's chew-proof and climb-proof
---
5. Choco Nose H125 Patented No Drip Water Bottle
If you're looking for a mouse water bottle that'll work well in a variety of situations, or one that'll set up in a matter of seconds with a few provided parts, then you're in the right place. The Choco Nose H125 Patented No Drop Water Bottle is a bulky, efficient product that delivers drinking water without spilling out all over the place after each use.
The 11.2-ounce capacity of this bottle is more than enough to let you mouse drink as much as they'd like without running out every day. It comes in Green, Blue, or Pink, although the bottle itself remains completely clear with each choice. The stainless steel spout also stays the same color, preventing rust and mold from water.
Hooking up this water bottle is really easy thanks to the adjustable twisting cap on the outer edge. Whether you're dealing with an aquarium, a cage, or a wooden surface, you'll be able to set it all up in a proper position for comfortable drinking. Mice don't want to have to reach for the stars every time they need a drink, which makes this leveled bottle a great choice.
Pros
Comes in a few colors and sizes to choose from
Made to adapt to numerous surfaces for mouse homes
Includes a nozzle that fits most water bottles to change sizes
---
6. Hypeety Cage Drinking Water Bottle
The final entry on the list is ideal for people who travel around a lot or those who need a mouse water bottle that's easily replaceable. The Hypeety Cage Drinking Water Bottle can be hooked on or unhooked from the side of a cage in a second, and you can clean it out relatively quickly as well. The top of the bottle is designed to prevent overfilling.
If you choose to order this product, you'll be getting one of four random colors selected by the company. These colors include Red, Pink, Green, and Blue, all of which come in an 8.79-ounce size for an optimal drinking bottle capacity. Generally speaking, you'll be able to go a couple days between filling up the bottle again.
The twisting cap on the front of this mouse bottle is similar to a few of the other mentions on this list. It hooks onto a wire cage, but you can also use other tools to attach it onto an aquarium as well. It's incredibly lightweight, which makes it even easier to pick up and travel with if you're bringing your mouse with you to a hotel, friend, or family member's house.
Pros
Comes in one of four randomly chosen colors from the company
Perfect for people who bring their mouse a lot of places with them
Works well for cages and aquariums
How to Pick Out Your Mouse's Water Bottle
Narrowing down the hundreds of choices down to just a few was the easy part. Now it's time to find out which of the mouse water bottles on the list is the right one for your pet's home. If you need help choosing between the numerous options that are listed above, check out the section below for tips and guidance to find the right pick. Good luck!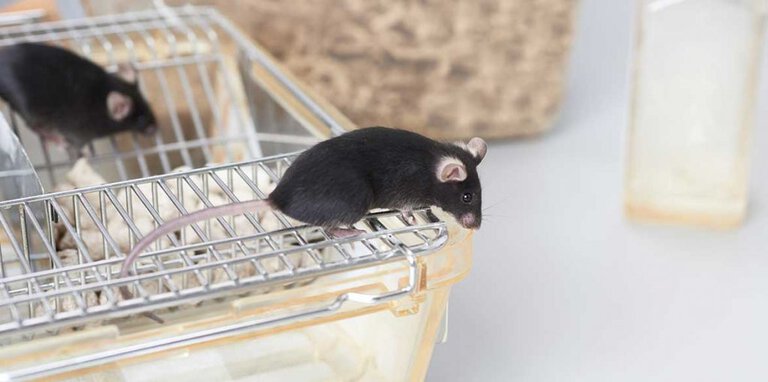 What is your mouse's house made out of?
In order to know which of the bottles you need for your mouse, you have to know what their house is made out of. For example, not all of the list's products are good for aquariums, while others are great for a variety of homes. Instead of jumping for the first one that has the right capacity or the right materials, figure out which ones on the list will work for the habitat that it'll be in. Then you can proceed to designs, materials, and so on.
Why do mice chew their water bottles?
Mice often chew their water bottles if they don't have enough toys to play with. They're always interested in the next best thing, so keeping them occupied with new and exciting play toys is a great way to prevent them from chewing or climbing their water bottle. However, not all mice can be stopped or distracted from the idea for eating their bottle, which is while most of the options on this list are chew-proof. Some are made out of glass, while others are durable, BPA-free plastic that doesn't dent easily. Either way, you'll save yourself the headache of having to replace a new bottle every week or two.
How much water do mice drink daily?
The average mouse drinks around 0.15 ounces of water every day. As you can see, any of the bottles on this list will hold them over for plenty of days on end. The 32-ounce bottles are going to keep them hydrated for weeks without ever needing a refill. Don't forget to wash out and clean any and all water bottles though, as germs can spread and cause mold or bacterial growth.
Sicknesses and other health issues can come up if a mouse's water bottle isn't properly taken care of. Always make sure that you thoroughly inspect them each time you remove it from the cage. Look for cracks, discolorations, rust, bacteria, and so on. You'll be doing yourself and your pet mouse a huge favor, and it only takes a few extra minutes of your time to stay on top of it all.
Another thing that you should notice is that 0.15 ounces might be the average, but not every mouse is average. It's not a bad idea to keep track of their daily water consumption to know how often you'll need to clean and refill it. Overall, mouse water bottles are relatively inexpensive, and they require very little care for how much your pet needs their hydration!

Victoria Nelson is a lifelong animal lover. She grew up in a small farm with a wide variety of pets that included dogs, cats, cows, fish etc. A published author since 18, she loves writing, and nothing makes her happier than writing about animals and sharing useful animal care tips.