There are many solutions on the market for bark deterrents, and an ultrasonic birdhouse that stops dogs from barking is one of the more popular options. Dogs are great, but sometimes they can be a little over-zealous with their barking habits in the yard. If you have a really vocal dog, an ultrasonic birdhouse is a great barking deterrent. Your birdhouse will work as both a pretty yard decoration and a birdhouse that stops dogs from barking.
Likewise, it's a humane way to stop your neighbor's dog from barking. While dogs should not be kept outside to bark all day and night, we all know someone in the neighborhood who does it anyways. By mounting an ultrasonic birdhouse on a tree in your yard and pointing it towards your neighbor's yard, it can greatly reduce or even eliminate nuisance barking.
How ultrasonic bark deterrents work
Dogs bark for many different reasons, including attention, compulsion, separation anxiety, and territorial barking. If your dog is barking for these reasons, there are ways you can effectively train him or her to be quiet on command, or quietly watch as people and animals walk by the house.
If training isn't working, there are tools to help stop the barking. One of them is an ultrasonic bark deterrent. Whenever the sensor of the collar or birdhouse hears your dog barking, it will emit an ultrasonic sound that only dogs can hear. It will be an unpleasant distraction, and it can be incredibly effective. Over time, dogs associate their barking with the unpleasant noise and they try to avoid it.
If you have tried training, ultrasonic devices, and citronella collars, seek out the help of a dog behavioral specialist before reaching for a shock collar. Shock collars are shown to increase the stress levels in a dog, and over time, misuse or overuse can damage the kidneys and heart. It's the least humane way to stop your dog from barking.
1.) PetSafe Outdoor Ultrasonic Bark Deterrent
This birdhouse bark deterrent is appropriate for dogs of all sizes and works within a 50-foot range. The sound is projected in a 180° cone arc in front of the speaker. It is weatherproof, so it can be mounted in a tree even during rain and will hold up in hot and cold climates. It uses a 9-volt battery and comes with a low battery indicator light.
The best part about PetSafe products is that they are guaranteed to deter your dog's barking. If it does not work, you can contact them and discuss a refund. They are also available to help walk you through troubleshooting first to see if your dog is not responding to the birdhouse due to other factors. This bark deterrent comes in a cute birdhouse decor, and it will make a nice addition to your yard.
---
2.) Weget Ultrasonic Bird House Box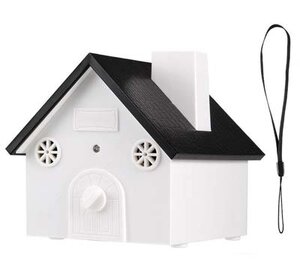 The Weget Ultrasonic Bird House Box is a durable and waterproof ultrasonic bark deterrent. It features a control which you can adjust to magnify the noise or minimize it between 4 levels, depending on the effectiveness of the sound on your dog. There is also a test mode to ensure which level is most effective for your dog before you mount it. The sound projects up to 50 feet away, and it's easy to mount on a fence or a tree. It uses a 9-volt battery and is built to endure all weather conditions. The Weget Ultrasonic Bird House Box is designed to look stylish and modern– like a mini house. It will be a welcome decoration for the outside of your home.
---
3.) Flexzion Ultrasonic Dog Bark Control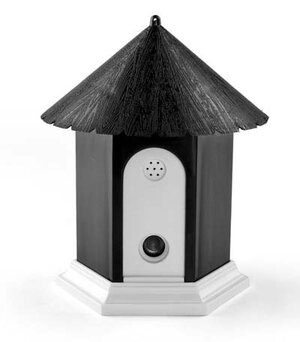 This adorable ultrasonic bird box looks more like a small, black-and-white hut from a tropical island than a traditional birdhouse. However, it works very well to deter nuisance barking. It projects ultrasonic noise up to 50 feet from its speaker, and it includes 4 levels of operation along with a test mode. It's durable, waterproof, and built to withstand the elements. It's easy to mount outside on a tree or on the side of the house: wherever it will be most effective for deterring barking from your dog. It uses a 9-volt battery, and it works well for all sizes of dogs.
---
4.) OxGord Ultrasonic Birdhouse Box Silencer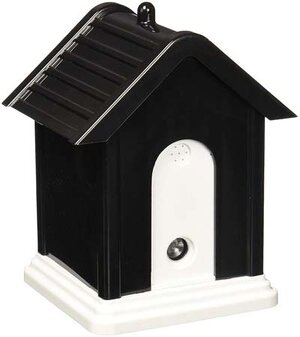 The OxGord Ultrasonic Birdhouse Box Silencer is a black-and-white powerhouse of ultrasonic noise. It features 4 levels of ultrasonic pitch, and it reaches a radius of up to 50 feet. The batteries, depending on how often the box is activated, can last up to two months before needing replacement.
Many customers say that this ultrasonic birdhouse that stops dogs from barking is a miracle and has given them back the peace and quiet they used to enjoy in their home. It's a small unit and it doesn't come with a place to mount it on anything. This is best used in a window or out on a patio where it can be set down on a surface and aimed towards the barking. However, it is incredibly affordable compared with other, similar products on the market, and useful to take with you anywhere.
---
5.) Posh Pets Bark Control Device
This birdhouse design by Posh Pets looks like a barn for birds, which gives it a stylish flair when compared to other birdhouse bark deterrents. It is weatherproof and easy to mount or hang anywhere in your yard. The sonic noise is projected up to 50 feet from the speaker and it works on all sizes of dogs. It's small, so it won't take up much room in your house if you decide to use it indoors, and it's portable so you can take it with you wherever you and your dog decide to go.
See also:
Final thoughts
While dogs bark for a variety of reasons, there are plenty of safe and humane devices to help them to stop nuisance barking. Begin with training your own dog with positive reinforcement, and you should see him or her begin to respond well in a few days. For extra help, or to deter a neighbor's dog's barking habits, an ultrasonic birdhouse that stops dogs from barking is an excellent solution.

Victoria Nelson is a lifelong animal lover. She grew up in a small farm with a wide variety of pets that included dogs, cats, cows, fish etc. A published author since 18, she loves writing, and nothing makes her happier than writing about animals and sharing useful animal care tips.