One of the newest solutions to the dangers of standard and training collars is the break away collar for dogs. Many pet parents have come home to discover disaster: their beloved dog has gotten their collar or ID tags hooked onto something, and in a panic, ended up strangling themselves. While a collar with tags is still the best way to ensure that if your dog gets loose, they will be returned to you quickly, leaving a dog home alone or unsupervised outside can have tragic consequences.
See also:
One of the most promising solutions to this problem are break away collars for dogs. These collars feature a safety release buckle or snap that will open with enough pressure. This ensures that your dog can get free, especially if they begin to panic. Many of these break away collars can also be used as a regular collar for walking, with modifications built-in to the collar to use with a leash.
The 6 Best Break Away Collars for Dogs:
1.) PetSafe KeepSafe Break-Away Collar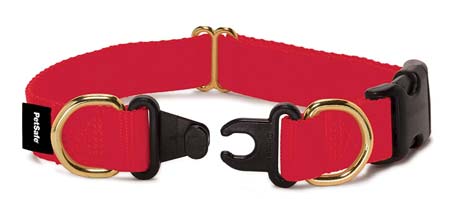 The PetSafe KeepSafe Break-Away Collar is the most popular break away collar on the market for dogs and cats. It features a buckle which releases with pressure to help keep your pet safe. It also handily doubles as a regular collar, with two D-rings which can be pulled together and hooked through with a leash clip. Break away collars for dogs also help keep your dog safe at the dog park, or on play dates. If a foot, jaw, or teeth becomes hinged into the collar, it will break away and release, allowing both dogs to free themselves without injury. With every break away collar, it's important to use their measurement guide and order the correct size for your dog. The amount of force needed to release the collar depends on the size of your dog, so it needs to be an accurate measurement to ensure that your dog will be safe with their new collar.
One of the best features about the PetSafe collars is its patented quick-release buckle design. When break away collars first entered the market, they were incredibly loose and dogs would routinely lose the collar just from moving quickly or even sneezing. PetSafe has improved upon this idea and made the collar so that the buckle will hold until a certain amount of pressure is applied. The buckle is designed to be used over and over again, so you can have peace of mind that this investment in your dog's safety will be one that will last for years to come.
---
2.) The Creativehome Puppy ID Collar
It's important to keep brand-new dogs safe, too, and these multi-colored break away collars help keep your new puppies safe and identifiable. This set comes in 12 collars, each with a different color to help you keep track of who is who in the litter. It also comes with a handy weight record card, color-coded to the collars to help you watch your puppies' progress. The soft material is easy to clean and reuse, and adjustable for your puppies as they grow. On larger-breed puppies, they fit until about 8 weeks and then it's time to switch to larger dog collars. Overwhelmingly, people who have purchased these collars are happy with the quality and the fit on their newborn puppies. Be sure to follow their sizing guide to ensure that the pressure for the breakaway matches the size of the puppy.
Many people who are concerned about tracking the identification of their litter puppies don't think about the safety concerns that come with a litter and collars. Puppies crawl all over each other and their mother, and their tiny paws can easily slip underneath a sibling's collar and pull. As they get older and begin to roughhouse and play, the risk of getting caught in each other's collars rises. This is why it's important to ensure that your litter puppies have break away collars that will release easily and keep all of your puppies safe from strangulation or injury.
---
3.) WonderPup Nylon Break away Collars for dogs
If you're looking for a collar that will fit a small dog or a young puppy, many break away collars designed for cats will fit best. This WonderPup break away collar comes in a set of 4 nylon collars, each a different collar with a reflective strip down the middle. It also features a bell on the tag loop which is easily removed. This pack of 4 collars is especially helpful if you have multiple small dogs, or if you have a small litter of puppies. The break away technology will give you peace of mind, and the reflective strap makes this collar great for taking your pup for a walk at any time of day or evening. The width of this collar is nice and thick, and it's durable. Use WonderPup's easy measuring guide to find the right fit for your small dog or puppy.
Small dogs are often prone to snagging their collars on things or other dogs, especially in play time or out in the yard. If your dog likes to sunbathe on the back porch, their ID tags can slip in between the boards and get caught. A break away collar helps avert tragedy by releasing when your dog begins to pull and panic, allowing them to escape to safety. Strangulation from collars occurred in 15% of this trainer's clients, which highlights just how prevalent the importance of collar safety is for your dog's health and well-being.
---
4.) Milliepet Puppy ID Breakaway Collars for Dogs
If you have a large litter of 14 puppies, these break away collars are another excellent choice for helping keep track of your puppies' progress and identification. This set of 14 collars comes in 14 different colors, along with a weigh chart so you can track the progress of your puppies on a daily and weekly basis. These collars are easy to wash, extra soft, and fully adjustable. The break away buckle only requires a light amount of pressure to release, so you can rest assured that your puppies won't snag and trap themselves on anything. They will also be extra safe during play time and when they're outside exploring the world around them. These collars last until about 8 weeks old.
Break away collars are especially important if you have heater grates in your floors. Lots of puppies are curious and like to sniff around these grates. If they have a collar or tags, they can easily become trapped in the grating. The break away collar allows your dog to break free of this entrapment and avoid strangulation or further injuries.
---
5.) Didog Breakaway Nylon Collars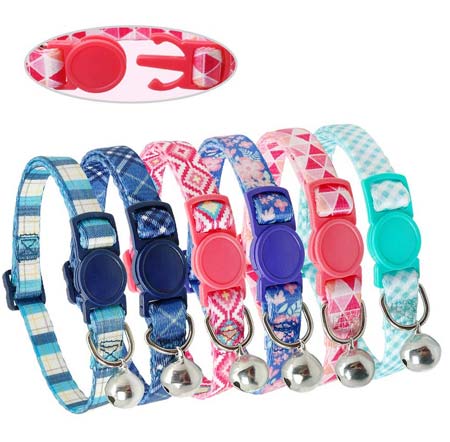 These fashionable break away collars work well for both cats and small dogs who are looking for some extra style in their lives. The nylon material is both durable and easy to clean, and the beautiful colors and designs really spruce up a plain coat color. From warm pink, to light teal, to beautiful blue patterns, your small dog will enjoy showing off their new break away collar to everyone they meet. Most importantly, in addition to your dog being one of the most fashionable in your neighborhood, you will have peace of mind that they won't snag and injure themselves on their collar. Since this collar is made for cats, it does feature a bell on the leash loop that is not removable. However, this can also help let you know where your small dog is anywhere in the house so you can make sure they aren't getting into trouble.
One solution to potential collar dangers that owners have come up with is to remove their dog's collar when they're in the house. Unfortunately, if your dog is an escape artist and somehow makes it out the door, they will be running loose without their ID tags and much harder to catch or grab. The breakaway collar is an excellent solution to collar dangers and your dog's overall safety. Keep them safe both inside and outside of the house with a break away collar instead.
---
6.) Didog Breakaway Collars Adjustable 7-10.5″
Didog makes another bold fashion statement for cats and small dogs with their 6-piece safety collar set. These brightly-colored collars are both eye-catching and fashionable. The bold red-and-black collar, or the soft tan-and-chocolate prints will be sure to match your dog's personality. They are fully adjustable for up to 10.5″ on small dogs, and they are durable and finely stitched. They will last your dog for years to come, and you can have the peace of mind that your dog will be protected from collar injuries while he wears it inside the house, or out on a play date. These do come with a removable bell from the leash loop. If you have both small dogs and cats, you can create a coordinating outfit of collars for all of your pets with these collars.
It's important to remember that both cats and dogs are at risk for collar strangulation and injuries. Cats are at a particular risk because of the places in the house that they can reach that dogs cannot. Unlike dogs, cats can jump up on high surfaces and furniture. They also enjoy playing with long strings and ropes, such as the cord to window blinds, or electrical cords. It's important to make sure all of your furry pets are safe, and break away collars are the best option to for keeping your pets out of collar danger.
Tips and tricks to avoid collar injuries
While we all aim to make sure our dogs' safety is paramount, both at home and out in the world, we often forget that in trying to ensure our dogs are identifiable with a collar and tags, these can become dangerous hazards instead. Dogs can get their tags and collars caught in fences, in heating grates, on other dogs, in the floorboards, between deck slats, on branches in the woods, and in a crate.
Because of these potential hazards, it's important to invest in a solution that will protect your dog like a break away collar. While most break away collars for dogs come with a leash loop, consider getting an ID tag that slides through the nylon of the collar and sits flatly on top. This way, your dog's ID and rabies tags won't get caught in some of the hazards they face in the home or outside.
Additionally, it's important to make sure your dog is microchipped, too. If your dog is able to break away and begin running, that microchip will mean that your dog can be scanned by any vet or animal shelter, and he can be returned home quickly. Microchips can also be scanned in any part of the country, so if he makes a long trek, you can rest assured that your information will still be with him the whole time.
You should also not allow your dog to be tied out or in the backyard without supervision. Dogs can get their collars caught on a number of things in the yard which can cause strangulation or injury. Chain-link fences are some of the primary culprits for collar injuries, along with injuries to the ears, mouth, and legs. If you have a tie-out, dogs can easily get wrapped up in the chain, or pull too hard and put pressure on their trachea. This can cause permanent damage to their trachea, or asphyxiation.
A break away collar is an excellent choice if you're taking your dog on a hike or a hunt. Dogs love to follow their noses and stick their heads and necks into areas that may have hazards. Branches and sticks can get caught in their collars, trapping them and perhaps even preventing them from getting back to you. A break away collar can help keep your dog safe on these treks. If they encounter another dog or other wildlife on your hike, the break away collar will also allow your dog to escape.
Final thoughts
Break away collars for dogs are a worthwhile investment for your dog's safety and health. Consider some of the great options on the market for your dogs and puppies, and keep them protected from a tragic accident.

Victoria Nelson is a lifelong animal lover. She grew up in a small farm with a wide variety of pets that included dogs, cats, cows, fish etc. A published author since 18, she loves writing, and nothing makes her happier than writing about animals and sharing useful animal care tips.