As a pet owner, bringing your dog with you everywhere you go is just part of the process. You love your dog, so why should you have to leave him or her at home? Luckily, you can try out dog crates for truck beds and have them ride along with you!
See also:
Instead of asking you to search all over the place to find the best one for you, feel free to refer to the list below. After looking through all of the well-reviewed dog crates for truck beds across the internet, we've compiled the top options for you and your pup.
The Best Dog Crates for Truck Beds That Money Can Buy
Bushwhacker – Paws n Claws K9 Canopy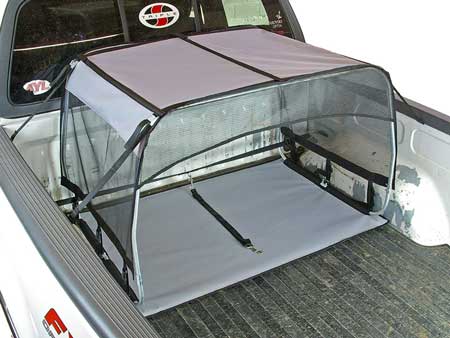 Coming in at the top of the list is the Bushwhacker – Paws n Claws K9 Canopy. If you've been searching for a comfortable, breathable, soft material to tow your dog along in the bed of your truck with, this is the one. It's made out of entirely ventilated material to give your dog the ultimate breeze as you drive down the road.
Four heavy-duty straps on the top of the canopy hold it in place, while two additional hooks on the bottom offer extra support. Don't worry about it sliding around, as it has a gripped bottom to keep it in one place. You'll also notice that the top of it is covered to prevent direct sunlight from entering while your pup dozes off.
The dimensions of this truck bed canopy are 48 x 32 x 30 inches. There's also a half-inch foam pad that comes included with your purchase to give your dog some cushion. You're also welcome to throw in the dog sleeping pad that you already own if it fits the aforementioned dimensions of this product.
Pros
This canopy is well-ventilated and keeps your dog protected from sunlight
Meant for dogs of all sizes with the massive dimensions
Several security straps to keep it from moving around
---
Diamond Deluxe – Aluminum Single Hole Dog Box
For those searching to find the highest durability out of a dog bed for the back of their truck, the Diamond Deluxe Aluminum Single Hole Dog Box is the best solution on the market. The initial appearance will show you all you need to know about this hardened, unbreakable crate for your pup.
You can select either medium or large, depending on the size of your dog. Medium comes in at 17 x 30 x 20, while large is 24 x 36 x 27 inches. The entire interior of this dog crate is pre-insulated to keep your dog comfortable, regardless of the weather outside. It can be pouring rain or hot as can be, but your pup will be relaxed the whole time!
The name of this product comes from the design and materials used; Diamond tread aluminum. This material is well-known for being incredibly durable through all sorts of wear and tear, but it still remains lightweight. There's also a carrying handle on the top to let you remove and replace it within seconds.
Pros
Comes with a closeable window on the side and three vents on the front door
Made of highly durable aluminum
Choose from a couple different sizes
---
Sliverylake Dog Cage Crate Kennel
The Sliverylake Dog Cage Crate Kennel is a wonderful combination of fantastic ventilation and a high level of durability. It's crafted with steel, one of the world's most strong, trustworthy materials around. The bars are thin enough to allow for constant airflow, but they won't let you pup get stuck in them at all.
Another great feature about this crate is the fact that you can choose between several different designs. Some of these options include Square Tube Black, Silver Double Door, Brown Single Door, and more. All of them come with removable trays on the bottom, as well as wheels that can be locked into place.
As for the aforementioned trays, they're made of composite plastic. This allows you to remove and wash up any messes that might occur along the way. All doors included on each of the offered designs come with two locks to prevent your dog from breaking out while you're in transit.
Pros
Comes in a wide variety of colors and sizes
Includes several locks and a composite tray
Made of high-quality steel throughout the crate
---
AmazonBasics Single Door & Double Door Folding Metal Dog Crate
For a much simpler design, the AmazonBasics Single Door & Double Door Folding Metal Dog Crate might be your best bet. It's a classic dog crate with an added carrying handle to make things easier on you. Why buy two separate containers when you can have one that gets both the jobs done?
There are a wide variety of sizes to choose from, since not every dog is the same size! Whether you have a puppy or a large dog, there's an option for you with this product. These options include 22-inch, 24-inch, 30-inch, 36-inch, 42-inch, and 48-inch. The width is the indicated measurement per size.
You can also select either a double door or a single door. Whichever you choose should be based upon your dog's overall width and their comfort of squeezing through small spaces. Keep in mind that all of the doors come with locks pre-installed to keep your dog from escaping while they're inside.
Pros
You can choose from several different sizes
Select either single door or double door
Includes a removable tray to quickly clean messes
---
LUCKUP Heavy Duty Dog Cage
The LUCKUP Heavy Duty Dog Cage is as tough as they come. The door on this truck bed carrier comes with three locks, ensuring your dog's safety at all times. Two color options, Black and Silver, are available for you to choose from. Either way you're getting the same high-quality, durable product.
Several different design choices are up for grabs, such as House Shape, Grid, Upgraded Grid, and more. Choose whichever you think will work best for your dog, as well as the shape and dimensions of your truck. Although all of the dog crates come with wheels, you can lock them to make it stay in place.
Two removable trays underneath the crate are meant to clean up messes or fallen food. You can remove them in seconds, wash them, and replace them as good as new. The tops on all of the cages, regardless of the design, open up for cleaning or extra ventilation. A massive front door is perfect for dogs of all sizes.
Pros
Choose between various different designs and colors
Comes equipped with two cleaning trays
Made of highly durable metal framing
How to Choose Dog Crates for Truck Beds
Now that you know the top five dog crates for truck beds on the market, you might still have a few extra questions before you choose one over the other. After all, why should you pick a steel frame instead of a ventilated canopy, or vise versa? Check out the Q & A below to find all the answers you need. Once you're all finished up, you'll be able to find the right match for you and your dog!
What material should a dog crate for a truck bed be made out of?
Dog crates have a bunch of different construction materials that result in wildly different products. When it comes to picking out one for the back of your truck, you should pick the material based on two factors:
What is the environment and weather?
What is your truck bed made out of, and what's on the floor?
Cold, rainy weather requires a covering for your dog. You could always get a ventilated metal crate and throw a tarp over it to protect your pup from the elements, but it won't keep them as warm. The dog box on this list is great for colder weather, since it has insulation without too many holes to let the low temperature in. Try opting for the canopy in extremely warm, humid temperatures as it provides a nice barrier from the sun while still adding great airflow.
If there's anything laying on your truck bed, or if it's naturally rough, you should get a crate that's elevated off the ground to protect your dog from the excess material.
Do you have to strap in a dog crate when it's in the back of a truck?
This all depends on the size of the truck, the size of the crate, and the material of both. Some of the crates on this list are meant to be as wide as a truck to wedge in there, while others have grip on the bottom to hold it in place. If they don't have either of those features, you should definitely strap it down. When in doubt, always go for the safest route!

Victoria Nelson is a lifelong animal lover. She grew up in a small farm with a wide variety of pets that included dogs, cats, cows, fish etc. A published author since 18, she loves writing, and nothing makes her happier than writing about animals and sharing useful animal care tips.