You're probably very familiar with wet and dry dog food. They're definitely the most common options, but they're not always the healthiest. Instead, try to find the best freeze dried dog food to give your dog a pure, nutritionally-packed diet.
There are many reasons that pet owners are starting to switch over to freeze dried dog food. Aside from the natural health benefits, it's also incredibly easy to store. The long shelf life makes it convenient to buy in bulk, and you can also use it for long road trips.
See also:
You'll quickly find that freeze dried dog food is lightweight, meaning almost anyone wouldn't have a hard time picking it up to feed the dog.
Without further ado, let's jump into the best freeze dried dog food on the market!
Finding the Best Freeze Dried Dog Food for Your Dog
1. Instinct Freeze Dried Raw Boost Mixers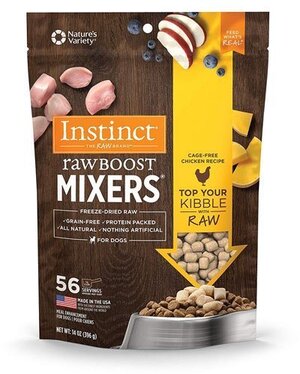 The Instinct Freeze Dried Raw Boost Mixers are free of grains, which are generally used as a filler. They might seem harmless, but without the proper protein integrated, grains can wreak havoc on a dog's digestive system.
Turkey, chicken, lamb, and beef are the four flavor options that any dog would absolutely devour. You know what your dog likes best, so pick it out for them at whichever size you'd like. Four different sizes from 6-ounce bags to 14-ounce bags are offered.
With real ingredients like chicken, veggies, and fruit leading the list, you can rest assured that your dog is getting everything they need in their diet. The freeze-drying process keeps the flavor while removing the moisture. This process allows the food to be stored for long periods of time without adding excess salt or artificial preservatives.
Key Features
Made with four different protein-packed flavors to choose from
All real ingredients like cage-free chicken, broccoli, and apples
Freeze-dried to remove excess moisture and prevent the use of preservatives
---
2. Stella & Chewy's Freeze-Dried Raw Stella's Super Dinner
If you loved the amount of flavor options in the previous option, you'll be elated for what's in store. Stella & Chewy's Freeze-Dried Raw Stella's Super Dinner is packed with plenty of natural ingredients that provide the perfect diet any dog would need to thrive. Their unique, 'sausage patty' shape makes this dinner an easy target for hungry pups!
When you think of your dog's favorite food, what comes to mind? Duck, venison, beef, salmon…? All of those and tons of more delicious flavors are available with this product. Pick what you think works best, and enjoy your healthy, energized pal. You can also buy a wide variety of sizes, so feel free to buy the smallest and test the waters with different flavors until you find out the perfect match.
With no added preservatives, hormones, fillers, or any other nasty additives, these patties truly are a Super Dinner. It's unfortunate how many dry and wet dog foods are loaded with sodium to preserve the food, and a dog has no idea that they're unhealthy. The good news is that freeze dried dog food like this one doesn't need any of it!
Key Features
A wide variety of flavors definitely has your dog's favorite on the list
Plenty of sample sizes to choose from
No artificial or unnecessary additives
---
3. Primal Freeze Dried Dog Food (Chicken Formula)
Some of us pet owners prefer something that's much more straight to the point. Primal Pet Foods made a product called Primal Freeze Dried Dog Food (Chicken Formula), which is absolutely fantastic. You don't have to bother yourself with multiple options, although they do have a wide array to choose from.
It's far too often that you look at the labels on dog food in a grocery store just to read all of the fillers loaded at the top of the nutrition list. However, this formula has chicken as the first three ingredients, followed by kale, carrots, yams, apples, and a plethora of other healthy fruits and vegetables.
If you've had a puppy, then you understand the constant transition from one brand to another. Puppy's require different nutrition, as do senior dogs. That being said, this product actually works for dogs of all ages. Simply change the portion sizes as they grow up, and your dog will have everything they need right in one brand!
Key Features
Simple, yet packed with everything your dog needs in their diet
All-natural ingredients like chicken, kale, yams, and apples
Gluten-free
---
4. TruDog: Feed Me: Freeze Dried Raw Superfood
TruDog is known to produce excellent quality dog food, and this version is no exception. Their Feed Me: Freeze Dried Raw Superfood is loaded with healthy ingredients to keep your dog energized all day long, regardless of their age or breed. They even claim that it helps prevent bad breath!
The simple 'just add water' formula makes it so they can ship this meal in very lightweight packages. An added layer of convenience lets you keep the unwanted strain off your back, while also reducing shipping costs. It's also easier for your dog to digest, since it soaks up all the moisture right before they start chowing down on it.
These little dog food nuggets are loaded with unparalleled amounts of protein, which is exactly what a growing dog needs. In the wild, they eat almost nothing except raw meat, so why should we change it up and add wheat, corn, and soy? Freeze dried dog food like this one by TruDog is also great if you're looking to get dog foods for weight gain. All the protein helps their muscles grow at a healthy rate.
Key Features
Just add water and enjoy the natural moisture levels for easy digestion
Incredibly lightweight
Loaded with all sorts of protein for a healthy diet
---
5. Buckley Liberty Freeze Dried Dog Food
Buckley Liberty Freeze Dried Dog food is quite possibly the simplest all-around dog food on the planet. It uses nothing extra to fill up the meal, and it's great for practically everything in your dog's diet. You can use it as a supplement to each food course, quick treats, or even as the full-on meal itself.
The three flavors that you can choose from are beef, chicken, and lamb. All of these choices are packed with delicious taste and great levels of protein to prevent health problems down the road. Dogs that lack protein often end up with weakened bones, muscles, and joints. They even sometimes have heart problems as they get older.
Derived directly from organs, muscle meat, and bones, the protein here is completely natural. Don't worry about all the extra artificial proteins, or incomplete proteins. There are also a healthy dose of fruits and vegetables to give your dog all of the extra vitamins and minerals they need to stay active and playful.
Key Features
Use for meal toppers, treats, supplements, or regular meals
Packed with naturally-derived protein sources
Great for promoting strong, healthy living
---
6. Grandma Lucy's Grain Free Freeze Dried Dog Food
Grandma Lucy's Grain Free Freeze Dried Dog Food quite literally looks like a bowl of delicious soup you'd have at grandma's house. When you add the water to this mix, it turns into a meal that might even make you hungry a little! In fact, the ingredients are quite similar to a serving of soup.
Start off by choosing from bison, chicken, lamb, or venison. They're the main course in the meal, so it's important that you pick something that you know your dog will like. However, these flavors aren't overpowering. There's still room for the fruits and veggies to shine through, which is rare when compared to most other dog foods that are generally mono-flavored.
Right within the title of the product, you'll notice that its grain-free. Why do so many companies tout this claim? Because grains not only limit the amount of protein in your dog's diet, but they can also mess with certain breed's digestive systems. You know that bloated feeling you get when you eat too much pasta or bread? It's much worse in some dogs, including German Shepherds and Labrador Retrievers.
Key Features
Several different flavors to choose from, including some of your dog's favorites
No added fillers, which helps prevent unfortunate digestive issues down the road
Made to look and taste just like a delicious, home-cooked meal from grandma
The Benefits of Freeze Dried Dog Food
It's no secret that more and more people are starting to lean towards freeze dried dog food. There are far too many health benefits to ignore, although many of them even directly benefit the owner as well. On top of all that, it's an unfortunate truth that many store-bought dog foods can cause serious health problems as the dog gets older. Issue like heart disease, arthritis, blindness, and digestive discomfort can all arise much earlier if your dog doesn't get the proper nutrition they need.
Lightweight
With freeze dried dog food, you get some of the best lightweight meals around. In fact, most of the weight in other foods is caused by the excess moisture. Water weighs 8 pounds per gallon, which definitely takes its toll on a 50-pound bag. Strip out all of the water and you're left with 10 pounds or less most of the time. Many brands even only sell up to a pound per package, since you can add all the water right before meal time.
Delicious Flavors
There are also loads of flavor options to choose from. Unlike other dog food that says "chicken", but tastes like every other brand on the market, freeze dried dog food actually takes like the true flavors. Why? Because they use all-natural ingredients to improve health and flavor at the same time. Your dog will absolutely chow down every last bit of their food in the blink of an eye!
Take it Wherever You Go!
Another great benefit of freeze dried dog food is the fact that it's perfect for road trips, staying with family, or vacationing in a hotel. You can even pack it up for camping if you brought the dog along. Since it's so lightweight and condensed, you don't have to worry about packing along a massive bag. You'll have so much more room for anything else you might need, while knowing that your pup will be eating like a king or queen throughout the trip. The freeze-drying process also works great for hot cars, since the moisture is removed. Moisture leads to bacterial growth, so without it you're good to go!
Great Food for Life
You might've noticed that freeze dried dog food works great for dogs of all ages. While complex, dry food formulas have to be geared towards a certain age group, this stuff is great for puppies to senior dogs. The excellent protein content mixed with fruit and vegetables gives your dog everything they need to continuously grow and prevent health issues through all of the vitamins and minerals. Imagine how nice it's going to be only have to shop for one food for their entire life! Switch up the flavors to keep things interesting or let them have their favorite forever. Feel free to buy it in bulk ahead of time, since you don't really have to worry too much about it spoiling.
Related articles:
Many dogs have a hard time adjusting to a new type of food. Imagine eating one thing for years and then suddenly it gets switched up! Not only does it make them confused and not want to even give it a chance, but it can mess up their stomach for a few days. To prevent this from happening, you can stick with this same food forever. You never have to worry about them feeling sick or denying their food if they never have to switch it up at all. Instead, they'll love their food and feel alive and ready to play fetch all throughout the day!

Victoria Nelson is a lifelong animal lover. She grew up in a small farm with a wide variety of pets that included dogs, cats, cows, fish etc. A published author since 18, she loves writing, and nothing makes her happier than writing about animals and sharing useful animal care tips.