Milk Bone is definitely one of the most popular brands across the dog food industry, which is why we've decided to create a Milk Bone Brushing Chews review. If you're dog has been suffering from tooth aches and gum problems, then it's probably time to start considering a dental routine. In fact, many dogs have oral hygiene problems without knowing any way to communicate it to their owners.
The truth is, dogs need a special method of cleaning their teeth just like us humans do. These Milk Bone Brushing Chews are a fantastic solution, so let's jump into the fine details below!
What Ingredients Do These Dental Chews Have?
One of the reasons that we chose to make a Milk Bone Brushing Chews review is because of how healthy they are. You'll find numerous options and other imitators on the market who sell similar chews that are packed with unhealthy chemicals for storage, flavor, and consistency. However, Milk Bone uses 16 essential vitamins and minerals that help protect your dog's teeth from bacteria and plaque.
The wonderful blend of ingredients makes these dental chews for dogs similar to tooth paste that we use. Nobody likes to brush without toothpaste! Similarly, no dog should have to brush without healthy ingredients. Calcium, complex proteins, and various other beneficial additives find their way into these delicious treats.
You'll also notice that having this high level of nutrition makes them livelier during the day, which is something we'll get into a little bit later in the article. It's no secret that gums need equal amount of attention as teeth, which is why it's so important that these vitamins soak up easily into the gum line.
Rice, chicken, and added iron and other minerals make these treats packed to the brim. Your dog will be cleaning their teeth while taking a multi-vitamin at the same time! What's not to love? There's even skim milk and bone phosphate to strengthen the bone that holds the root of their teeth in place. It's hard to find another dog treat that matches the same level of nutritional effectiveness.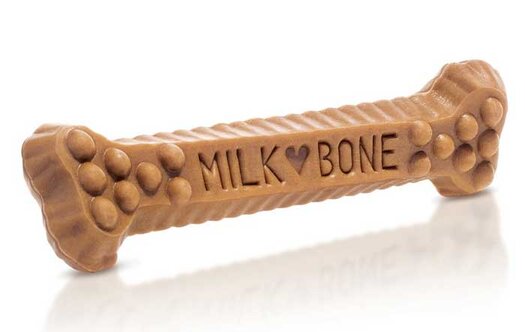 Why Do Milk Bone Brushing Chews Work?
Milk Bone is mostly popular for their traditional crunchy, crumbly treats that dogs eat up in an instant. However, their brushing chews are on the rise in recent years thanks to two reasons:
They tackle the growing unspoken issue of dental issues among dogs. We generally don't think about brushing our dog's teeth or anything of that nature because, well, they're dogs! After all, wolves don't brush their teeth in the wild, right? That being said, dogs are similar to us humans in the sense that they will lose teeth rather quickly and experience serious pain without proper dental care. These dental chews remove plaque buildup in a matter of minutes, saving you and your dog from a world of hurt.
The alternative to giving your dog a dental chew treat is to brush their teeth yourself. While this might not sound too bad, imagine them running all over the place, closing their mouth, and doing everything they can to get that strange object away from them. Instead, you can hand them a treat and they'll eat it up, having no idea that they're scrubbing their teeth at the same time.
Milk Bone Brushing Chews work by being flexible and textured. The little bumps all over the surface dig into the hard to reach areas, while the bone itself can bend and move all over like a flexible toothbrush. The combination is one of the best around, saving you from having to do it all yourself!
The Health Benefits of Milk Bone Dental Treats
The aforementioned benefits of Milk Bone's Brushing Chews shouldn't be skipped over. After all, they're still ingesting the 'toothbrush', so we want to make sure it's all healthy when the digestive process starts. Speaking of which, we'll start with how well these treats can improve your dog's digestion.
Protein is needed to improve digestion in all animals, so the first ingredient of chicken is a great starter. Another huge factor in the whole process is the actual consistency of the food itself. These chews are tough, almost rubbery at first so they can scrub down the teeth without breaking apart. However, saliva quickly breaks them down as they go to the stomach.
Paired with healthy stomach acids and the phosphoric acid to promote healthy pH levels in the treats, your dog won't have an issue digesting these at all. In fact, it'll help regulate their system to promote digestion for all of their other meals as well.
Another huge benefit of these Milk Bone dental treats is that they provide a great amount of energy. Some dogs seem to slow down as the day goes on, so these are a nice way to boost their activity levels. Not only does this mean a happier dog, but it can also make them run around and improve cardio health as well!
Finally, the protein from the chicken also helps with muscle growth. It's important to start cleaning your dog's teeth from a young age, but it's never too late to start. Puppies benefit from protein and natural muscle growth, but older dogs need help with joint pain and other issues caused by lack of dietary nutrition. The protein here is a great jumpstart for dogs young and old!
How Do You Feed Your Dog a Dental Chew?
Quite a few dental chews on the market have a few additives that can't safely be consumed by dogs very often. What's the point of cleaning their teeth once a week? There's simply too much time for harmful bacteria to grow, so the cleaning won't do much at all. However, the Milk Bone Brushing Chews are a daily treat that you and your dog will both love. Your pup thinks it's a reward for being good, while you get to get rid of their bad breath and yellow teeth!
See also: The Best Smelling Dog Shampoo
You don't have to worry about following any sort of special procedure, buying extra toothpaste, or tricking your dog into brushing their teeth with a brush. Simply toss them one of these delicious chews and watch it do the magic for you. That's it, there's no fancy process or anything!
How Can You Buy Milk Bone Brushing Chews?
Since Milk Bone has been around for a while, they know as well as you do that one treat doesn't work for all dogs. Depending on your dog's weight, you can select from Large, Medium, Small, and Mini Breeds to pick out the perfect size. They also let you buy them in all sorts of quantities. Feel free to sample the chews in a pack of five or go all in with the 56-pack! The choice is yours, but it's nice to know how much you'll be helping your dog's teeth regardless.
What ingredients should dog dental chews have?
After looking through numerous Milk Bone brushing chews reviews, there are a few common ingredients to take note of. For example, all of them avoided artificial flavors and colors like Red 40 that can lead to internal home later on down the road. However, healthy additives like mint, calcium, chicken, and a few other ingredients are always a good choice as long as your dog isn't allergic.
How do dental treats clean a dog's teeth?
Dental treats use notches, ribs, bumps, and numerous other textured patterns to naturally scrub away the tartar, plaque, and bacteria that build up through a day of eating. Contrary to popular belief, dogs are equally as susceptible to serious oral health diseases as us humans are. Using these dental treats prevents quite a few health problems!
How often should you clean a dog's gums and teeth?
Another interesting bit of info that you might not know is that dogs should have their teeth cleaned once a day. It might not be as often as us, but it's still important to take care of those problems. Luckily for you, it's quite easy to stay on top of it all. The only step required of you is to give your dog one of these dental treats and they'll be off to scrubbing immediately! You'll save time and money instead of dealing with all of the possibilities of bad dental health down the road as well.
What other steps can you take to promote good dental health in dogs?
Dogs are prone to all sorts of dental issues, but they're easily preventable if you deal with them accordingly. Aside from dental treats for dogs, one of the best ways to promote hygiene is to avoid giving them anything that's not a food intended specifically for dogs. Many owners feed their dogs leftovers from dinner. While it might seem harmless, dogs aren't made to consume cheeseburgers, spaghetti, and so on. Stick to the healthiest dog food around and you'll be sure to prevent cavities, gum disease, and several digestive issues!
See also: The Best Indoor Dog Potty

Victoria Nelson is a lifelong animal lover. She grew up in a small farm with a wide variety of pets that included dogs, cats, cows, fish etc. A published author since 18, she loves writing, and nothing makes her happier than writing about animals and sharing useful animal care tips.